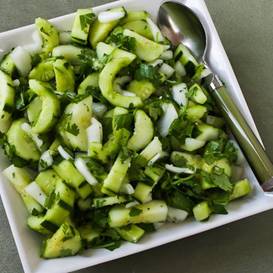 This is a simple summer salad. It's quick, easy, has hardly any calories, and (most importantly) it's actually tasty!
Serves 6 people and is better after a few hours in the refrigerator.
INGREDIENTS
2 large cucumbers
1/3 cup fresh cilantro, chopped
½ cup Trader Joe's white balsamic vinegar
½ cup Trader Joe's rice vinegar
¼ cup Trader Joe's extra virgin olive oil
¼ teaspoon – fresh ground black pepper (Best grinder in the world—The Khun Rikon from Switzerland, found at Williams Sonoma)
¼ teaspoon – Trader Joe's sea salt
½ teaspoon – Dried dill weed
Optional: squeeze of lime
DIRECTIONS
Peel both cucumbers. Slice them down the middle and de-seed with a small spoon. (baby spoons work great!) Cut into u-shaped bites.
Chop up your cilantro, make sure that you have no stems.
Add both vinegars, olive oil, dill weed, salt and pepper.
—–
Trader Joe's is a retail grocery store chain in nine states: http://www.traderjoes.com/