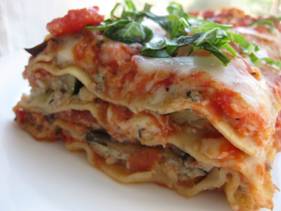 INGREDIENTS
1lb. ground sirloin
1lb. linked Italian sausage (mild or hot), take out skins and breakup
4 cloves garlic
2 jars of Barilla marinara sauce
2-3 tbsp. fresh chopped oregano (or 1 tbsp. dried)
2-3 tbsp. fresh chopped parsley (or 1 tbsp. dried)
2-3 tbsp. fresh chopped basil (or 1 tbsp. dried)
1 can large chopped tomatoes
1 lb. mozzarella cheese, shredded
2 eggs
1 small container cottage cheese, small curd
2 tbsp. pepper
1 pkg. 'no-boil' lasagna noodles
DIRECTIONS
Brown sirloin, sausage, and garlic then drain well. In a large pot, combine the ingredients and cook on low heat for 30 minutes.
While that cooks, mix the following in a large bowl and set aside:
eggs
cottage cheese
parmesan cheese
1 tbsp. pepper
Preheat oven to 325°.  Place a small amount of sauce on the bottom of a 9×13 Pyrex dish and spread evenly.  Lay one layer of lasagna noodles across the dish. On top of the noodles, spread ½ of the cheese mixture, sprinkle mozzarella, and then spoon on some sauce. From there it's really just rinse and repeat! Repeat process: layer noodles, cottage cheese mixture, mozzarella and sauce. Bake for 45 minutes until bubble. Cool for 15 minutes and serve.