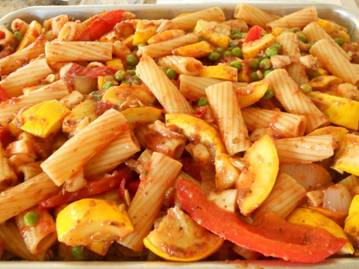 One night while I was on a trip to Dallas, I decided to roast some veggies in the oven.  Little did I know, my friend Cindy "Lulu" would take roasted vegetables to a whole other level! Enjoy!
INGREDIENTS
4 chicken Italian sausages
2 jars of marinara pasta sauce
1 small can of Trader Joe's green chiles
1 small carton of fresh mushrooms
1 red pepper, chopped
1 yellow pepper, chopped
1 red onion, chopped
6 – 8 garlic cloves, chopped OR Spice World, minced or chopped garlic in the jar
1 tablespoon – fresh flat-leaf (Italian) parsley, chopped
6 tablespoons extra virgin olive oil
Sea salt & freshly ground pepper to taste
DIRECTIONS         
Preheat the oven to 350°. Roast the peppers, onion, garlic with olive oil on a flat baking sheet until tender (about 15 minutes).
In a large stock pot, prepare the sausage by removing the skin, crumbling it up, browning it, and finally draining it.
Add the 2 jars of marinara pasta sauce, fresh sliced mushrooms, and green chile.
Add fresh chopped Italian parsley, bring to a boil, cover, and let stand.
Serve over rotini noodles and garnish with fresh shredded parmesan.
—–
Trader Joe's is a retail grocery store chain in nine states: http://www.traderjoes.com/