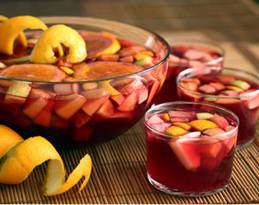 Quick and easy punch for gatherings during the hot summer months.
2 liters of Carlo Rossi burgundy
4 cups of fresh squeezed orange juice
2 cups melted sugar
2 cups fresh squeezed lemon juice
2 cups fresh squeezed lime juice
1 ¼ cups Christian Brothers Brandy
Fresh sliced lemons, limes, and oranges for garnish.
Combine in a large punch bowl and enjoy!