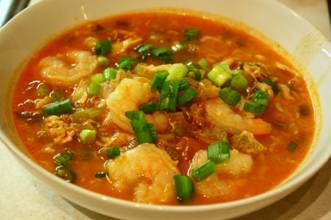 No matter how big they get or how much they change, the kids still ask for their dad's gumbo. Definitely a classic!
INGREDIENTS
⅔ cup olive oil
⅔ cup all-purpose white flour
2 full tablespoons of fresh chopped garlic OR Spice World, minced or chopped garlic in the jar
1 tsp. cracked black pepper
1 tsp. cayenne pepper
½ tsp. thyme
1 cup chopped yellow onion
½ cup chopped green onions
½ cup chopped fresh parsley
½ cup chopped celery
½ cup chopped red bell pepper
½ cup chopped green bell pepper
2 – cups of fresh okra – (or frozen if fresh not available)
2 – 14.5 oz. cans of chopped tomatoes with garlic, basil & oregano by Trader Joe's
2 – 6oz. cans of fine crabmeat, juice drained, by Chicken of the Sea
2 – 8oz. cans of whole oysters by Chicken of the Sea
2 – pounds of peeled and cooked medium size shrimp (add at the end)
1 tsp. Gumbo File' by Zatarain's (add at the end)
Louisiana hot sauce (add at the end)
DIRECTIONS
Make a roux by combining heated olive oil and flour in a deep 12 quart stock pot. Cook slowly till roux starts to brown.  Be careful not to burn the roux!
Add onions and cook until translucent.
Add celery, parsley, red & green bell peppers, green onion, black pepper, okra, chopped tomatoes, crabmeat, oysters, cayenne, thyme, and garlic.
Water may need to be added to bring juice level even.
Cook on low heat for 1 ½ hours, stirring as needed.
Last 10 minutes of cooking time, add 1 teaspoon of Gumbo File' and cooked shrimp.
Serve with white rice and saltine crackers.
Louisiana hot sauce can be added for extra taste!
FOOTNOTE
Filé powder is a seasoning made from the ground, dried leaves of the sassafras tree. It's an integral part of Creole cooking, and is used to thicken and flavor gumbos and other Creole dishes.