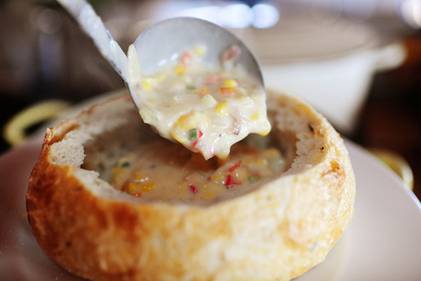 This dish is absolutely delicious, very easy to make, and it goes great with rotisserie chicken—perfect for those cold lazy Sunday afternoons!
INGREDIENTS
3 Tbsp. butter
1 Whole onion, chopped
3 Bacon slices, chopped
2 Tbsp. (heaping) Fresh green chile
1 Whole red bell pepper (finely diced)
1 Whole yellow bell pepper (finely diced)
1 Whole orange bell pepper (finely diced)
6 Ears of Corn (kernels sliced off)
¼ Cup All-purpose flour
3 Cups Chicken stock or broth
2 Cups Half-and-half
1 Cup (heaping) grated Monterey Jack cheese
1 Cup (heaping) grated Pepper Jack cheese
1/3 Cup green onions, sliced
Bread Bowls
DIRECTIONS
In a large pot, melt the butter over medium-high heat and cook onions for a couple of minutes.  Add bacon and cook for about another minute, then add diced bell peppers and green chile.  Cook for a couple of minutes.  Finally, add the corn and cook for one more minute.
Sprinkle flour evenly over the top of the mixture and stir.  Pour in chicken broth and stir well.  Allow this to thicken for 3-4 minutes and then reduce heat to low.  Stir in the Half-and-Half, cover, and allow to simmer and thicken for 15 minutes or so.  Stir in cheeses and green onions.  When the cheese is melted and the soup is hot, just season to your liking and enjoy!
I also won a Green Chile contest with Albuquerque The Magazine with this recipe. Click here to view the article with my granddaughter.