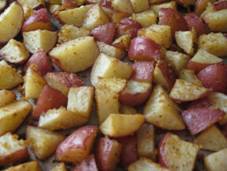 Another favorite from my daughter-in-law Gina. This is one of her favorite, simple side dishes.
INGREDIENTS:
8 to 10 red potatoes
Olive oil
Sea salt
Ground black peppercorns
Garlic powder
Red pepper powder (can substitute fresh garlic or cayenne pepper)
Coriander powder
DIRECTIONS:
Preheat oven to 450° F.  Dice the potatoes into small bite-size squares and place on baking sheet. Coat the entire dish with olive oil and season to your liking.  Bake for 45-60 minutes, turning the potatoes every 15 minutes.