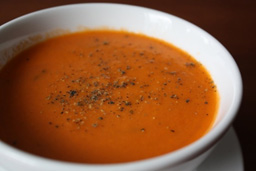 Delicious and yummy on a cold weather day. This soup combines the ease of canned tomatoes with the bright flavors of fresh carrot and shallot, and the richness of cream. By roasting the vegetables first, even more flavor is developed as their sugars caramelize. 
INGREDIENTS
Two 28-ounce cans whole tomatoes, drained of their juices
1 tablespoon olive oil
1 tablespoon light brown sugar
4 carrots, peeled and chopped
2 shallots, quartered
Salt and freshly crackled black pepper
3 tablespoons unsalted butter
½ teaspoon crushed red pepper
2 cloves garlic, minced
1 tablespoon tomato paste
2 tablespoons dry sherry
One 28-ounce crushed tomatoes
1 to 2 cups chicken stock
¼ cup heavy cream 
DIRECTIONS
Preheat the oven to 400º F degrees.
In a mixing bowl, combine the two cans of drained whole tomatoes, olive oil, light brown sugar, carrots and shallots, and toss to coat. Season the vegetables with salt and pepper. Place the vegetables on a silicone or parchment-lined baking sheet and roast until caramelized, about 30 minutes.
Heat a large soup pot over medium heat. Add the butter and cook until foaming. Add the crushed red pepper and garlic. Sauté for 1 minute. Add the tomato paste and cook for 1 to 2 minutes. Then add the sherry. Cook until all the liquid has evaporated and the alcohol has cooked off, 1 to 2 minutes. Add the roasted vegetables, can of crushed tomatoes (with liquid) and 1 cup chicken stock. Season with salt and pepper and bring to a simmer. Let simmer for 15 minutes. Add the heavy cream. Using an immersion blender, puree the soup until uniform in texture. Add more chicken stock to adjust the consistency to taste.