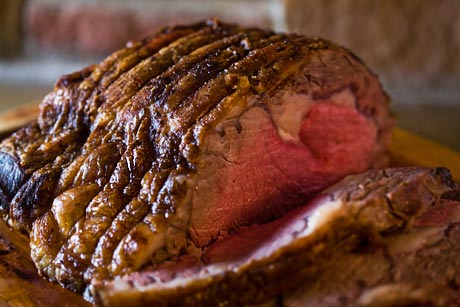 Prime rib can be an intimidating dish – it's not cheap. It makes a spectacular presentation when carved tableside. Ryan and Gina love this easy to prepare recipe that requires only a little preparation and always get a lot of compliments.
INGREDIENTS
Butter
Grey Poupon
Garlic
Black pepper and salt
Liquid smoke
Prime Rib (ask your butcher for recommendation on pounds per person)
DIRECTIONS
Coat meat with Grey Poupon and sprinkle with garlic powder, black pepper, and salt. Add a few drops of liquid smoke (depending on size of dish). Melt 4-5 tablespoons of butter and coat the meat. Cook at 325° until internal temperature is 135°-140°. Allow dish to rest for five minutes and then remove from pan.
Once the meat is out, transfer the pan to the stovetop on medium heat. Add a small amount of red wine and beef broth to the pan and reduce. Your goal here is to loosen up the leftover juices that stuck to the bottom of the pan while baking. Continue to stir the wine/broth while lightly scraping the bottom of the pan. Add salt, pepper, and garlic powder until the taste is to your liking.  Serve as au jus.