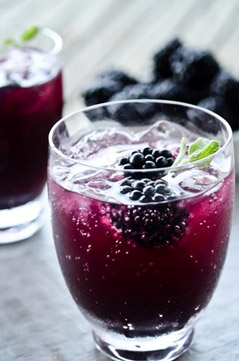 INGREDIENTS
4 tbsp. sugar
1 cup water
15 sage leaves (medium)
8 oz. blackberries
Club soda
DIRECTIONS
Bring the water and sugar to a boil over high heat until all of the sugar has dissolved. Crush the sage leaves with the back of a spoon and add to the syrup mixture. Set aside for 15 minutes (as the sage infuses) and then remove the herbs.
Meanwhile, puree the blackberries in the blender and then strain the mixture through a fine strainer.
To serve, place a tablespoon of the blackberry puree in the bottom of a glass, add a tablespoon of the sage syrup and top off with 8 ounces of club soda. Enjoy!