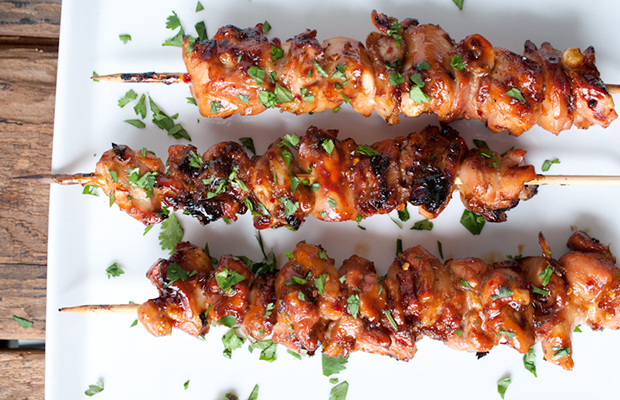 Perfect for backyard barbeques or parties, these glazed chicken skewers are a little sweet, a little spicy and a little smoky from the grill. The soy gives an Asian flair, while the red pepper flakes provide some kick. Enjoy with other finger foods (like buffalo wings) and a cold beer or other beverage. Have plenty of napkins or wet wipes for sticky fingers, too!
INGREDIENTS
4 cloves Garlic, grated with a microplane (or minced)
⅓ cup Honey
½ bottle Negra Modelo (I recommend drinking the rest with the meal!)
1 tsp. red pepper flakes
½ tsp. Dijon mustard
¼ cup Soy Sauce
¼ tsp. Pepper
1 tbs. Olive Oil
¼ cup chopped Shallots (about 1 medium shallot)
6 boneless skinless Chicken thigh filets, cut into cubes
Oil (for the grill)
Cilantro (optional – for garnish)
1 tbs. Balsamic Vinegar (Trade Joe's – Aceto Balsamico de Modena)
DIRECTIONS—Marinade
In a small bowl, whisk together the garlic, honey, Negra Modelo, red pepper flakes, mustard, soy sauce and pepper. Add the chicken cubes and refrigerate for 1 hour. You can leave it to marinade longer, but don't leave it in the refrigerator longer than overnight.
Remove the chicken from marinade (reserve the marinade) and thread through wooden skewers.
In a pot over medium-high heat, add the olive oil, balsamic vinegar, and shallots. Sauté until the shallots soften (about 5 minutes) and then add the marinade. Boil your mixture, stirring frequently until it has reduced and thickened (about 8 minutes). 
DIRECTIONS—Grilling
Preheat grill to medium-high heat and brush lightly with oil. Brush your chicken with the glaze and place them on the grill. Brush the chicken with your glaze again and turn every 2-4 minutes until fully cooked (about 10 minutes). Sprinkle with chopped cilantro prior to serving.
DIRECTIONS—Oven
Preheat oven to 400° F and place chicken on a baking sheet covered with aluminum foil. Brush liberally with glaze and roast for approx. 30-40 minutes, brushing with glaze every 8-10 minutes until cooked through. Sprinkle with chopped cilantro prior to serving.