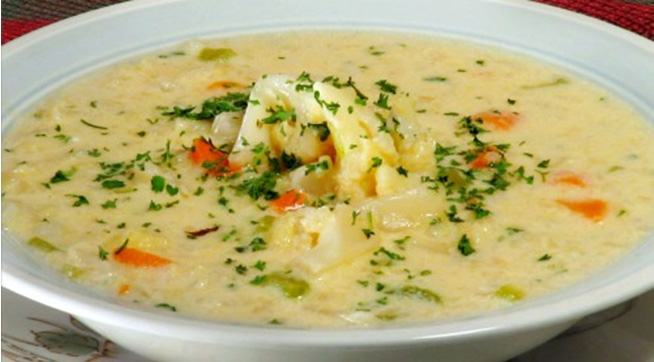 Eating your vegetables doesn't have to mean salads. This cauliflower chowder is a flavorful (onions! garlic! bacon!) way to include the underrated cauliflower in your meal planning. The addition of the green chile makes this a spicy dish, too.
INGREDIENTS
6 slices bacon (cut into small bits), package of Trader Joe's Uncured Apple Smoked bacon
2 tbsp. unsalted butter
4 cloves garlic, minced
1 onion, diced
3 carrots, peeled and diced
3 stalks celery, diced
4 oz. jar Hatch Green Chile
¼ cup all-purpose flour
4 cups chicken broth
1 cup 2% milk
1 head cauliflower, roughly chopped
1 bay leaf
1 tsp. fresh minced Thyme (optional)
Kosher salt and freshly ground pepper, to taste
2 tbsp. fresh parsley, chopped
DIRECTIONS
Heat a large skillet over medium-high heat. Add and cook bacon until brown and crispy, about 6-8 minutes. Transfer bacon to a plate lined with a paper towel; set aside.
Heat the butter in a large pot or Dutch oven over medium heat. Add garlic, onion, carrots, thyme, celery and parsley. Stirring occasionally, cook until tender, about 3-4 minutes. Stir in cauliflower, green chile, and bay leaf. Cook until tender, another 3-4 minutes, stirring occasionally.
Whisk in flour until lightly browned, about 1 minute. Gradually whisk in chicken broth, cooked bacon and milk. Cook, whisking constantly, until mixture is slightly thickened, about 3-4 minutes.
Bring to a boil, reduce heat and simmer until cauliflower is tender, about 12-15 minutes, and season with salt and pepper, to taste. Add more milk until desired consistency is reached.