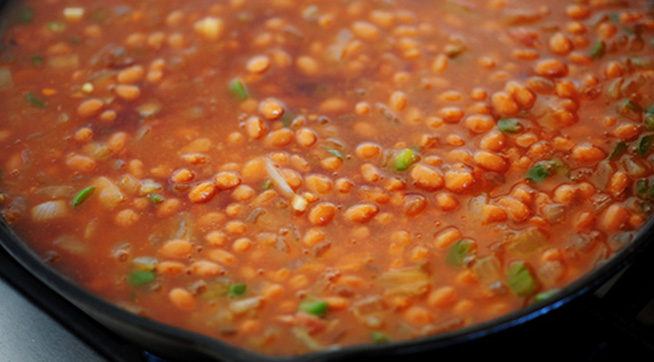 Baked beans are the ultimate comfort food, either on their own or as a side dish. This version uses a can of ready-made pork and beans, and doctors them with the addition of bacon and spices. Delish!
INGREDIENTS
4 slices bacon, diced
1 medium onion, diced
1 medium green bell pepper, diced
1 medium red bell pepper, diced
4 oz. jar Hatch Green Chile
1 large can Van Camp's Pork & Beans (net 53 oz. / 3 lb. 5 oz.)
1 cup barbeque sauce
½ cup brown sugar
¼ cup distilled or cider vinegar
2 tbsp. ketchup
1 tbsp. yellow dry mustard
DIRECTIONS
Place your oven rack to the middle-lower position and preheat to 325° F.
Fry your bacon in a large skillet until it is partially cooked. Add the onions, peppers, and green chile. Sauté until tender, about 5 minutes.
Add the beans, barbeque sauce, brown sugar, vinegar, ketchup, mustard, and mustard. Bring to a simmer. Pour the flavored beans into an aluminum pan, and bake until the beans are bubbly and the consistency is similar to that of pancake syrup, about 2 hours.
Let stand to thicken slightly and serve warm.