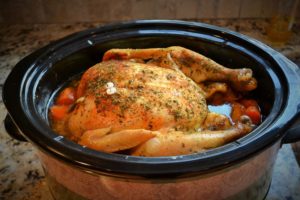 This recipe was given to me my daughter-in-law, Gina. She and my son love to cook healthy meals on the weekends. This meal is simple, healthy and very delicious!
INGREDIENTS
One package Savory Seasoning Mix (by Lipton)
1 tsp. Paprika
½ tsp. Onion Powder
1 tsp. dried Thyme
½ tsp. dried Rosemary
2 tsp. Sea Salt
2 tsp. fresh ground Pepper
1 tsp. Sriracha hot sauce (optional)
2 cups warm Chicken Broth
One 5 – 6 lb. Whole Chicken
2 lbs. Baby Potatoes, whole
3 large Carrots, cut into 3" pieces
1 head Garlic, cloves peeled
4-5 sprigs fresh Thyme 
DIRECTIONS – Seasoning
Place the first 8 ingredients in a small bowl. Then, add the chicken broth and stir until all ingredients have combined thoroughly.
DIRECTIONS – Chicken
In a six-quart slow cooker, evenly distribute the baby potatoes, carrot chunks, and half of your garlic cloves along the bottom.
Rinse the chicken thoroughly under cool running water, trim away any excess skin, and remove the giblets and neck (these will be used for stock, see below).
Place the bird breast-side up on top of the vegetables and pour the seasoning/broth mixture evenly over your chicken and veggies. Then, stuff the bird with the remaining thyme and garlic.
Cover the slow cooker and cook on low heat for 7 – 8 hours. The chicken is done when an instant-read thermometer registers 165°F when placed in the thigh.
If you're looking for a little extra crisp for your chicken – carefully transfer the bird to a broiler pan and place in oven approximately 12" – 14" from the heat source. Set oven to broil and leave the bird in for 4 – 5 minutes, just until the skin browns and crisps. Enjoy!
*Remember to save the chicken bones and giblets to make a healthy homemade Slow Cooker Bone Broth* 
Slow Cooker Chicken Bone Broth 
This broth can be prepared a variety of different ways. Try substituting or adding to the list of vegetables to find your perfect mixture! Below is our favorite way to make it at home.
INGREDIENTS
Leftover bones & giblets from Slow Cooker Chicken
4 – 5 small Carrots, chopped
3 – 4 stalks Celery with leaves, chopped
3 – 4 cloves Garlic, peeled
1 large Onion, chopped
2 Bay Leaves
1 tbsp. Sea Salt
Handful of fresh Parsley & Thyme
2 tbsp. Apple Cider Vinegar
Fresh filtered Water 
DIRECTIONS
Evenly distribute your ingredients inside a six-quart slow cooker. Make sure to leave at least 2" of clearance from the top of your slow cooker. Cook on low for 18 – 24 hours, and enjoy!