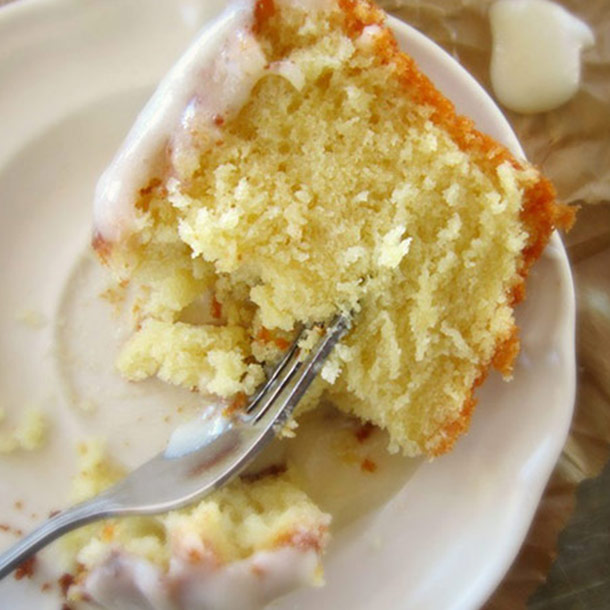 This is the ultimate rich, dense, buttery pound cake you can find! For best results, bake this a day ahead and wrap in plastic for the night. Or, the cooked cake can be frozen for up to 3 months. Also try serving it with a blueberry or strawberry sauce on top. 
Ingredients
1 ½ cups butter, softened
1 (8 oz.) package cream cheese, softened
3 cups sugar
6 large eggs
1 ½ tsp. vanilla extract
3 cups all-purpose flour
1/8 tsp. salt
Directions
Heat oven to 300°F.
Beat the butter and cream cheese at medium speed with an electric mixer for 2 minutes, or until creamy. Gradually add sugar, beating for 5 to 7 minutes. Add eggs, one at a time, beating just until yellow disappears. Then, add vanilla while mixing well.
Combine flour and salt and gradually add to butter mixture, beating at low speed just until blended.
Pour batter into a greased and floured 10-inch tube pan. Fill a 2-cup, ovenproof measuring cup with water and place in oven next to tube pan – this will help keep the cake moist. Bake at 300°F for one hour and 30 minutes, or until a wooden pick inserted in center of cake comes out clean. Cool in pan on a wire rack 10 to 15 minutes. Remove cake from pan, and cool completely on a wire rack. 
Glaze
1 cup powdered sugar
½ – tsp. vanilla
1 tbsp. milk, to consistency
Directions
Mix together until desired consistency is reached, but I recommend keeping it on the thin side. You can keep adding more milk, one teaspoon at a time, until you get the desired consistency. Drizzle over your cooled cake and enjoy!