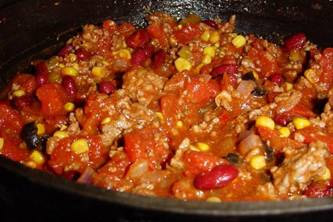 This recipe was given to me in Dallas by my dear friend, Lulu. She first tasted this dish at Central Market grocery store and found herself unable to resist a second and even a third sample! Living out in New Mexico, we got ahold of it and added our New Mexico kick. Enjoy!
INGREDIENTS
1 pound ground sirloin
½ large or 1 small yellow onion, diced
1 tablespoon minced garlic OR Spice World, minced or chopped garlic in the jar
½ green bell pepper, chopped
1 – 13 oz. carton of Hatch chopped, hot or mild chile… OR 8 green chile's – 4 mild and 4 hot green chile's – roasted, seeded and chopped
1 – 15 oz. can of Trader Joe's tomato sauce
1 – 14½ oz. can of Trader Joe's diced tomatoes OR with zesty mild green chiles
1 – 15 oz. can of Trader Joe's organic pinto beans, drained & rinsed
1 – 15 oz. can of Trader Joe's organic black beans, drained & rinsed
1 – 16 oz. bag of Trader Joe's frozen roasted corn
¼ to ½ teaspoon cumin to taste
Sea salt and fresh ground pepper to taste
1 bunch of fresh cilantro leaves, chopped. Place into the pot the last 10 minutes
OPTIONAL
Costco chicken sausage with roasted red pepper & spinach by Casual Gourmet®, made with all natural chicken, fully cooked, pork free, gluten free, no MSG, no nitrites and has only 5g of fat per link. Comes in a 3 lb. package (three packages of five). When making this dish, I use one package of five, sliced.
DIRECTIONS
Brown the ground sirloin in a large stock pot
Add onion and cook 5 minutes
Add garlic and chilies, cook 2 more minutes
Add remaining ingredients and cook another 15 minutes
Add cilantro at the last 10 minutes of cooking
Serve topped with Mexican four cheese blend and jalapeno cornbread