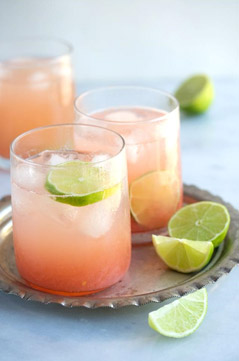 INGREDIENTS
1 ½ shots tequila reposado (or good quality tequila blanco)
Juice from half a Ruby Red grapefruit
½ shot of agave syrup or sugar syrup
Ca. 3 shots club soda
A squirt of fresh lime juice
DIRECTIONS
Combine the grapefruit juice, tequila, and sugar syrup in a large container and stir until well mixed. Pour over a tall glass filled with ice and top off with soda water. You can also add a squirt or slice of lime for additional flavor.
*Still quite delicious without the simple sugar (if you want to reduce your sugar intake).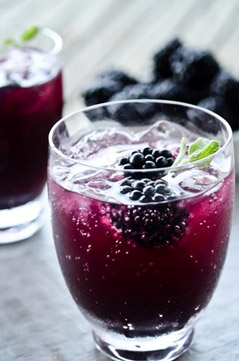 INGREDIENTS
4 tbsp. sugar
1 cup water
15 sage leaves (medium)
8 oz. blackberries
Club soda
DIRECTIONS
Bring the water and sugar to a boil over high heat until all of the sugar has dissolved. Crush the sage leaves with the back of a spoon and add to the syrup mixture. Set aside for 15 minutes (as the sage infuses) and then remove the herbs.
Meanwhile, puree the blackberries in the blender and then strain the mixture through a fine strainer.
To serve, place a tablespoon of the blackberry puree in the bottom of a glass, add a tablespoon of the sage syrup and top off with 8 ounces of club soda. Enjoy!