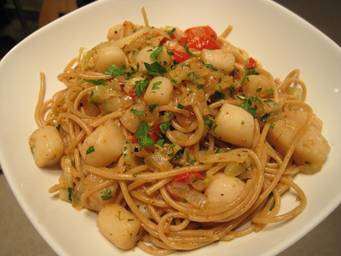 My son Ryan and his wife Gina love to cook together. This is one of their all time classic dishes they like to make together.
INGREDIENTS:
8 large sea scallops
Fusilli pasta noodles
1 lemon
2 tablespoons Butter
Fresh chopped parsley (for topping)
Fresh grated parmesan (for topping)
Sea salt
Ground black pepper
Red pepper
Garlic (fresh or powder)
Roasted Vegetable Ingredients:
2 red peppers, sliced
3 zucchinis
3 yellow squashes
2 packs button mushrooms, sliced
DIRECTIONS:
Roasted Vegetables: Cut the peppers into approximately 1" slivers and dice the zucchinis and squash into 1" to ½" thick quarters. Combine these in a bowl with the mushrooms, sea salt, ground black pepper, red pepper powder, garlic, olive oil, and sea salt. Toss together.  Place vegetables on a foil-covered baking sheet and bake at 425°F until they are tender, turning every 15 minutes.
Scallops: Season the 8 large scallops on both sides with garlic powder, salt, and black pepper, while heating 1 tablespoon of butter in a skillet.  Add scallops to skillet and sauté until brown on both sides (about 5 minutes each).  Add a squeeze of lemon juice to pan.
Pasta: Boil water and add box of fusilli pasta noodles.  After cooked, drain pasta and stir in 1 tablespoon of butter. Season with a dash of garlic salt.
Toss vegetables and pasta together and serve.  Top each dish with scallops and sprinkle fresh Italian parsley and grated parmesan cheese.