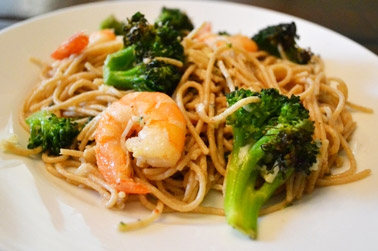 In the early nineties, we took many trips to Seaside, Florida for our vacations. We would rent fully furnished beach houses for the summer. One traditional dish we loved to make every year was this quick, easy and delicious favorite. My niece, Elizabeth, would go with us every summer. Without fail, she would ask her Uncle Cubby to make this for her. Enjoy one of our classic dinners by the sea.
INGREDIENTS
1 pound of fresh shrimp (prawns), peeled and deveined
1 cup broccoli florets
1 pound fettuccine
6 tablespoons extra virgin olive oil
6 – 10 cloves of garlic, chopped
½ cup (4 oz.) white wine that you would drink
Red pepper flakes to taste
Sea salt & freshly ground pepper to taste
2 tablespoons heavy cream
1 tablespoon fresh flat-leaf (Italian) parsley, chopped
1 cup of fresh Parmesan cheese
DIRECTIONS
In a large pot, bring 5 quarts of salted water to a boil, adding a little olive oil to the water. Add the fettuccine and cook until the noodles rise to the surface (about 2 minutes).
In a large frying pan, heat olive oil over low heat. Add garlic and sauté, stirring frequently, until translucent (about 2 minutes).
Add broccoli, cover and cook, stirring occasionally, until tender (about 5 minutes).
Raise the heat to medium, add the shrimp and sauté about 2 minutes.
Add white wine and season to taste with salt, pepper and red pepper flakes.
Drain pasta and transfer it to the frying pan containing the other ingredients. Place over medium heat and add the parsley and heavy cream. Cook, stirring gently, about 2 minutes.
Arrange on a warm platter and serve immediately with fresh Parmesan cheese.