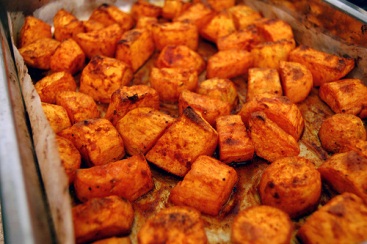 My daughter-in-law loves potatoes of any kind. She makes this as a side dish to go along with her Cherry Bomb Pork Chops or Honey Soy Sauce Cornish Hens.
INGREDIENTS:
2 yams
Olive oil
Garlic powder
Chipotle powder
Brown sugar
Cinnamon
Salt and black pepper
Red pepper powder
'All-Spice'
DIRECTIONS: Preheat oven to 450° F.  Dice the two yams into square-shaped bites (about 1 inch around) and place on baking sheet. Coat the entire dish with olive oil and season to your liking. Bake for 30-45 minutes, turning the yams every 15 minutes.